Our students are so excited for this season of fun as they anticipate all their upcoming holiday plans. We hope they can join in on a bit of that fun here with us at AES by participating in our December fun calendar as we enter into the Holiday season!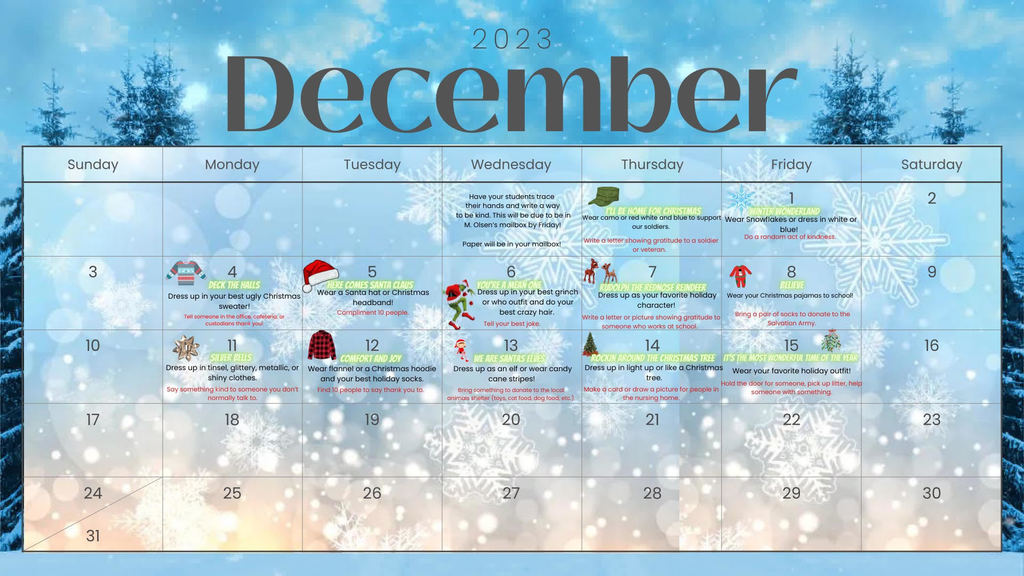 Join us this week as we show our Raider Spirit!
Help AES support the ACHS FFA in the 2023 Souper Bowl. Students can bring non-perishable canned foods to their homeroom teacher from August 21-25, 2023. The homeroom that collects the most cans during this food drive will win an ice cream social for their class! All collected food helps support local food pantries and our community. We appreciate your support of this year's Souper Bowl!
Welcome back! Join us for our AES Open House (no appointment necessary) 11:00 am - 6:00 pm When? Thursday, Aug 3, 2023, 11:00 AM Where? Appomattox Elementary School, 176 Kids Place, Appomattox, VA, USA
Earlier this year, two of our AES students participated in a song project with students in Turkey, India, the Netherlands, Japan, Spain and Taiwan. The project has won an award!
https://tatv.us/tatv-staff-picks-2022/
We were fortunate to also participate in a February Zoom call with all the student participants. The link to the song itself is below. The first several seconds features AES as representatives of the USA!
https://m.youtube.com/watch?v=frijDl8m8oc&feature=youtu.be
December is almost here! With Christmas right around the corner we wanted to let you know that our Christmas Store will be on Dec 13th and 14th for the students. Nothing is over $2!!! We will be sending home flyers next week so be thinking about those people you want your child to shop for!
This has been such a fun week for American Education! Lots of food, laughs, and appreciation. Just a couple pictures of our glow party, food for staff, and gifts for the students.
Our long awaited Glow Party will take place on November 14th! All prizes will be given out that day also. Thank you for supporting our AES school, teachers, staff, and students! We could not do any of the things we do without you! Money raised from this fundraiser went straight back into the classrooms. Teachers got to spend the money how they saw fit to benefit the students in their class.